The 28 organizations* part of the EDMO fact-checking network that contributed to this brief published a total of 1.270 fact-checking articles in October 2022.
Out of these articles, 274 (22%) focused on Ukraine-related disinformation; 111 (9%) focused on COVID-19-related disinformation; and 121 (10%) focused on climate change- related disinformation.
The percentage of detected disinformation about the war in Ukraine passed from 12% in September to 22% in October, and the share was significantly higher – sometimes above 50% – in different Central and Eastern European countries.
Read the brief HERE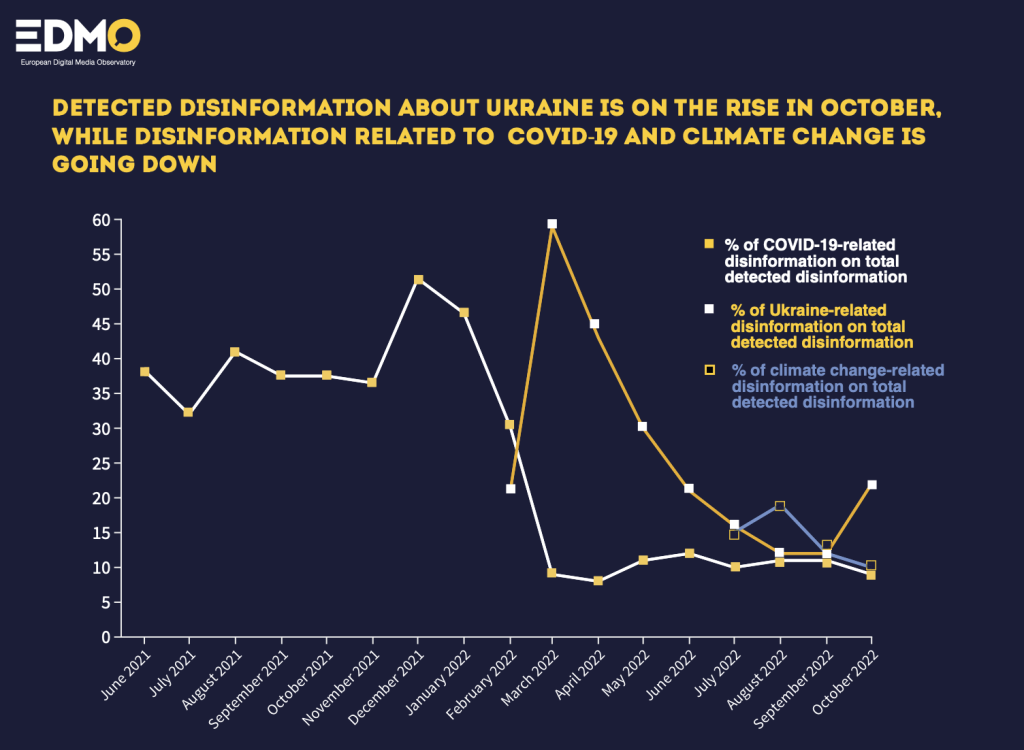 MAIN NARRATIVES DETECTED:
– The main narratives conveyed by false news about the war in Ukraine are partially the same detected in the previous months (Ukrainians are largely pro-Nazi, Ukrainian refugees are not real refugees and European nations treat them better than their own citizens, the weapons provided by the West to Ukraine are sold on the black market, Russophobia is raging in Europe, Ukraine is exploited by so-called allies, sanctions are backfiring against EU countries) and partially new (in particular, different conspiracy theories blaming the West for Nord Stream pipelines explosions).
– The main narratives conveyed by false news about COVID-19 are generally the same as those detected in the past. The false news about a Pfizer executive (Janine Small) admitting that
the company did not test whether its COVID-19 vaccine stopped transmission of the virus before its launch – one of the most viral in the EU in October – gave new life to this line of disinformation.
– The main narratives conveyed by false news regarding climate change detected in October are also similar to the ones detected during the summer. The narrative that ridicules and attacks climate activists gained traction this month, in particular because of false news about protests targeting famous paintings.
DETECTED DISINFORMATION ABOUT GAS CRISIS / PRICE CRISIS SLOWS DOWN IN OCTOBER
The main narratives detected in October are consistent with the ones detected in September (false news about drastic measures to save energy imposed by EU countries, about brutal repression of protests, or about harsh consequences of the crisis on the European people), but the volume is lower.
DETECTED DISINFORMATION ABOUT MIGRANTS IS GROWING IN OCTOBER
Alongside with the narrative about a new wave of migrants arriving in Europe, detected in September and still existing in October, this month many false news targeted the topic of immigration, claiming that refugees are not real refugees, that migrants receive a favorable treatment from the authorities or that they are violent. In general, detected disinformation aims at conveying xenophobic and Islamophobic messages.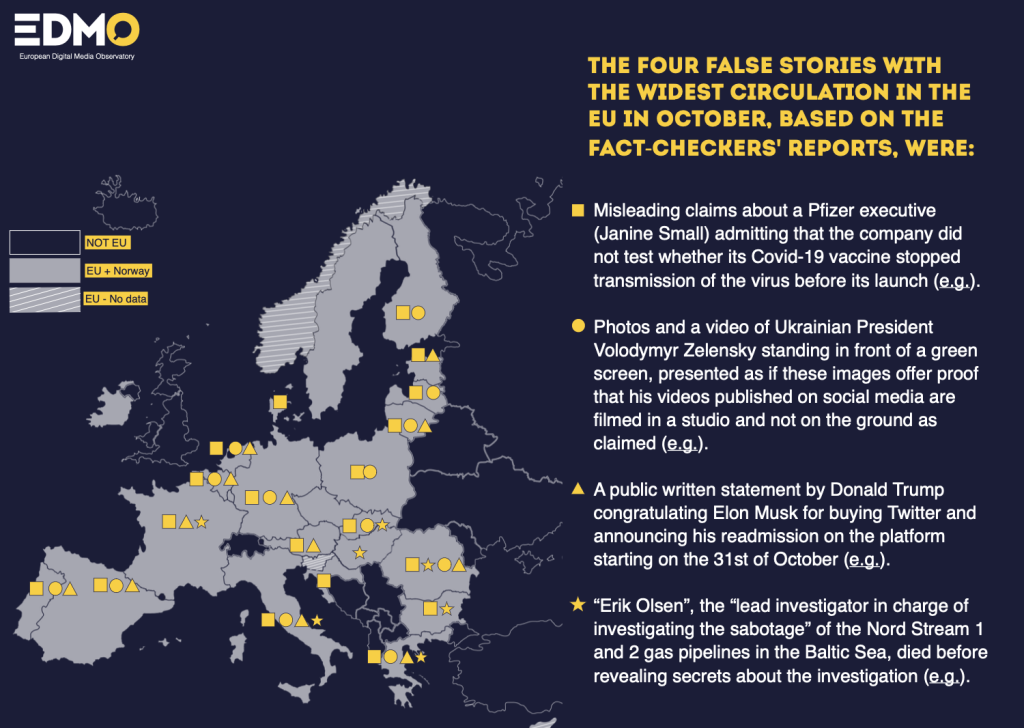 * Organizations that contributed to this brief: 15min, AFP, Correctiv, Delfi, Demagog (Pl), DW, Eesti Päevaleht, EFE Verifica, Ellinika Hoaxes, Eurocomunicare, Faktabaari, Factcheck Vlaanderen, Källkritikbyrån, Knack, Lakmusz, Maldita, Nieuwscheckers, Newtral, PagellaPolitica/Facta, Poligrafo, Pravda, PressHUB Romania, Re:Baltica, The Journal Fact-Check, TjekDet, Verificat, VerificaRTVE, VRTNWS.