In September 2022, NewsGuard released a report which showed that TikTok's search engine is pumping toxic misinformation to its young users, with almost 20 percent of the videos presented in the top 20 search results containing misinformation on major news topics.
In this new report focused on TikTok, we feature false health claims that come up in searches on the platform. Some of the videos featured are more than a year old. Yet, they all showed up within the first twenty results of the searches led by NewsGuard analysts on the platform in October 2022. In their searches, our analysts used terms that users could well search for when trying to confirm or disprove popular myths about COVID-19, vaccines, cancer and the monkeypox epidemic.
The falsehoods in English, French, Italian and German presented in this report had been viewed 18.66 million times on TikTok as of October 2022. Some videos featured clips from websites that are rated Red by NewsGuard because they are generally not reliable. Many did not contain any warning, while others (some of those sharing myths related to COVID-19 vaccines) only invited users to "Learn more about COVID-19 vaccines."
Why does it matter? In September 2021, TikTok reported 1 billion active monthly users, 60 percent of whom are Generation Z (less than 25 years old,) according to data from ad agency Wallaroo Media. And TikTok surpassed Google as the most popular website worldwide in 2021, with more and more people using it as a search engine.
Common health myths suggested in searches by NewsGuard's analysts on TikTok included:
The spike protein in COVID-19 vaccines is toxic.
Black seed oil cures cancer.
Bras cause breast cancer.
Vaccines are deadly.
Bill Gates predicted the 2022 monkeypox outbreak.
The monkeypox virus was manmade.
Hydroxychloroquine is a proven COVID-19 treatment.
Italian-language health misinformation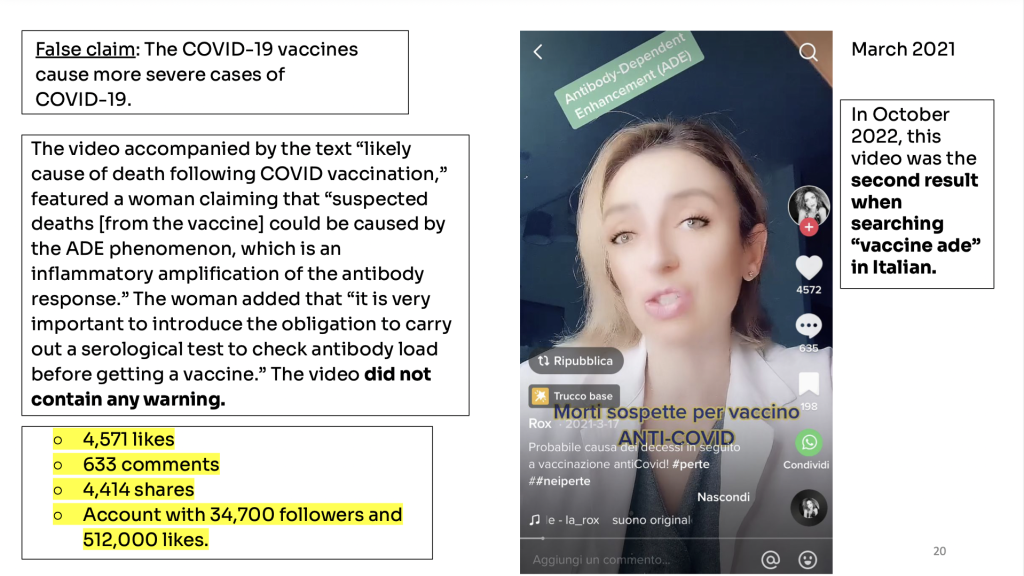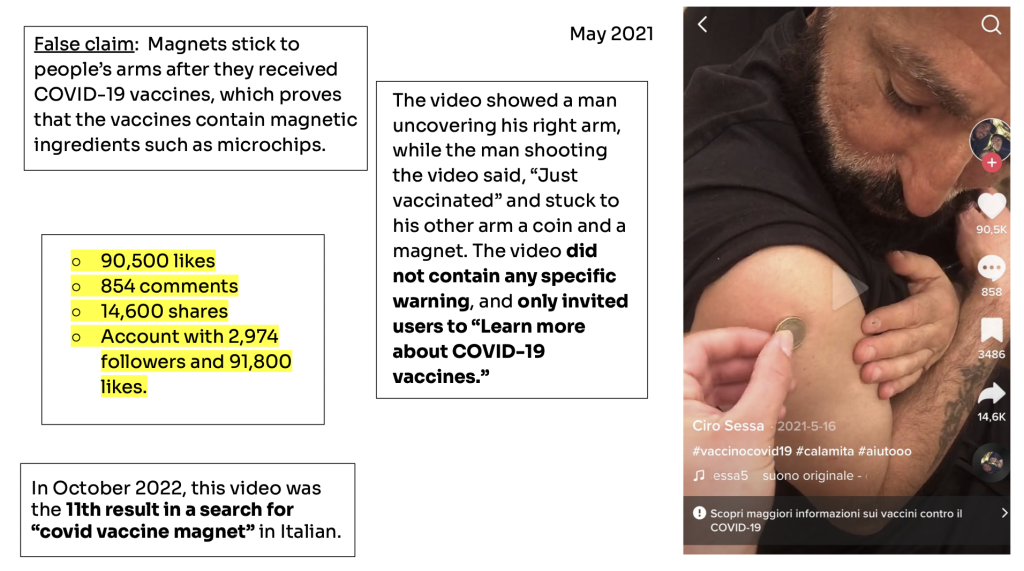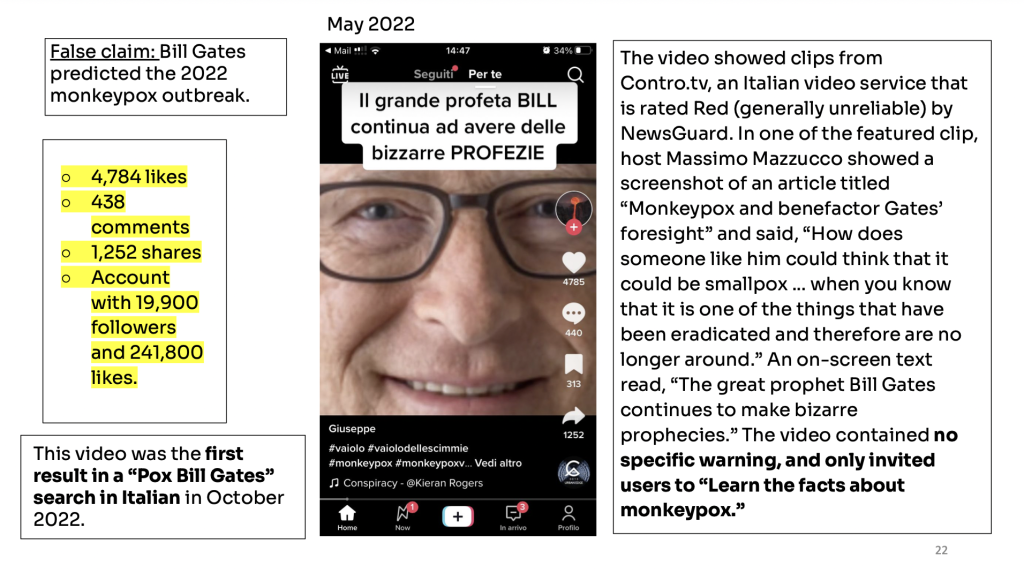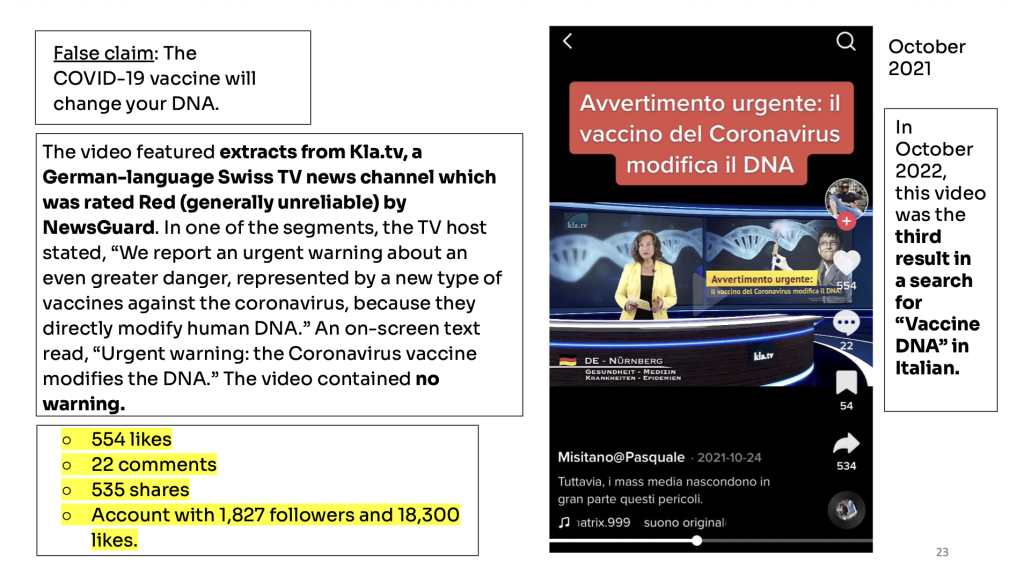 This report was produced using NewsGuard's two proprietary datasets:
The Misinformation Fingerprints dataset, a catalogue of data about top misinformation narratives, contains related keywords and search terms for all of the top misinformation and disinformation narratives spreading online – produced using human intelligence but designed for use with AI/ML/NLP tools to identify content matching specific false claims. NewsGuard analysts used the Misinformation Fingerprints dataset to identify relevant searches related to misinformation narratives about COVID-19, vaccines, and other health issues.
NewsGuard's News Website Reliability Ratings, which consist of credibility ratings for over 8,400 news and information website that account for 95% of online engagement with news in the U.S., U.K., Canada, France, Germany, Austria and Italy. Each site's rating is based on nine basic, apolitical journalistic criteria. Based on the criteria, each site receives an overall designation of green (generally trustworthy) or red (generally not trustworthy) and a trust score of 0-100. NewsGuard's analyst used the News Website Reliability Ratings dataset to identify misinformation sources that appeared in the results for searches conducted as part of the analysis.
Both datasets are available for licencing.
Examples selected for the report represent an illustrative, but by no means exhaustive, list of false claims shared on TikTok and found when using the app as a search engine.